Creamy Tahini Sauce with Pasta with Vegetables
[ad_1]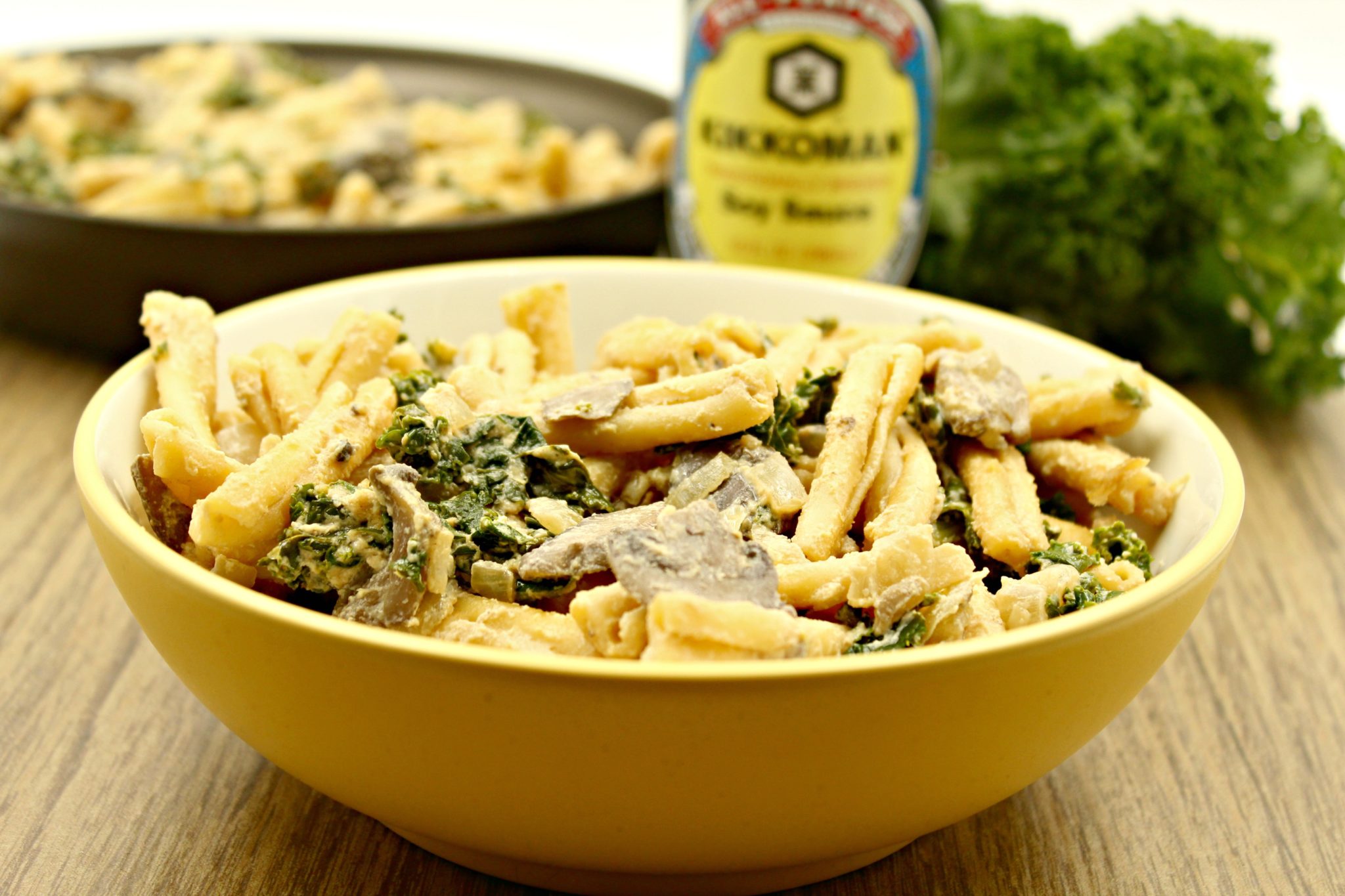 I received a free sample of Kikkoman soy sauce mentioned in this post. By posting this recipe I am entering a recipe contest sponsored by Kikkoman and am eligible to win prizes associated with the contest. I was not compensated for my time.
It is still early in the New Year and many people are still focused on making healthier choices or sticking to resolutions or goals. Often times people are looking to reduce their sodium intake to improve health outcomes. One of the best ways to reduce sodium is to find a substitute that improves the taste.
Is Soy Sauce Good for you?
By using 1/2 tsp. Kikkoman Soy Sauce in place of 1/2 tsp. table salt, the sodium content of the  recipe is cut by 1000 mg. The unique unami taste of soy sauce packs so much flavor you won't be missing the salt.  Kikkoman offers a variety of less sodium products: Less Sodium Soy Sauce, 50% Less Sodium Gluten-Free Tamari Soy Sauce, Less Sodium Teriyaki Marinade & Sauce, and 50% Less Sodium Gluten-Free Teriyaki Marinade & Sauce.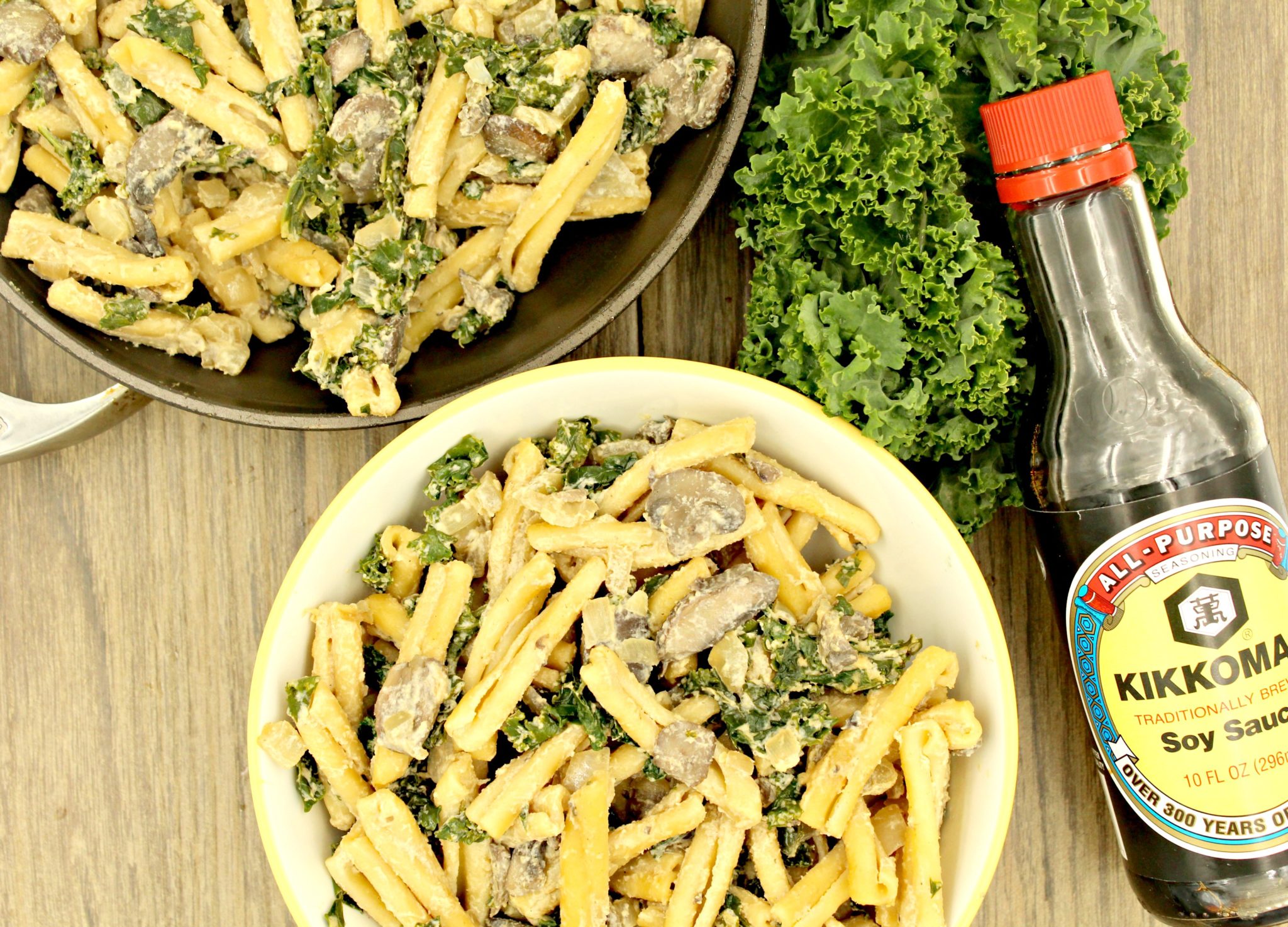 Does Creamy Tahini sauce taste good??
I used Kikkoman Traditionally Brewed Soy Sauce and it was the perfect salt substitute for my creamy sauce. When you hear soy sauce most people immediately think of Asian so I wanted to create a recipe with a more interesting flavor profile. I decided to create a creamy sauce that I used to make all the time in grad school- a tahini soy sauce mixture- that goes great on everything. Tahini creates a creamy sauce when thinned with water, and the soy added a kick more of flavor.
Is Tahini Good for you?
Tahini is sesame seed paste that is a common ingredient in Mediterranean and Middle Eastern cooking, blended into dips like hummus and baba ghanoush. It's low in calories but high in nutrition including being a great source of protein, fiber, and important vitamins and minerals.  Check out the full nutrition profile HERE.
Tahini can be used in most recipes as a substitute for peanut butter- including: breakfast meals, hummus, desserts, and more!
Creamy Tahini Sauce with Pasta and Veggies
1

TBSP

olive oil

1

large yellow onion

2

cloves

garlic

8

oz

mushrooms

1

large bunch kale

12

oz

pasta

½

cup

tahini

¼

cup

Kikkoman Traditionally Brewed Soy Sauce

2

TBSP

lemon juice

½

cup

pasta cooking water

or hot water
Heat olive oil in pan on stove top.

Chop onion, add to pan, cook 5 minutes.

Boil water and cook pasta according to box directions.**Reserve ½ cup cooking water

Chop mushrooms and garlic, add to pan.

Remove kale from stems and cut into thin strips, add to pan.

Measure tahini, soy sauce, and lemon juice, mix together in bowl. Add hot water or pasta cooking liquid, mix thoroughly.

Add sauce mixture and pasta to veggie pan. Combine and serve warm.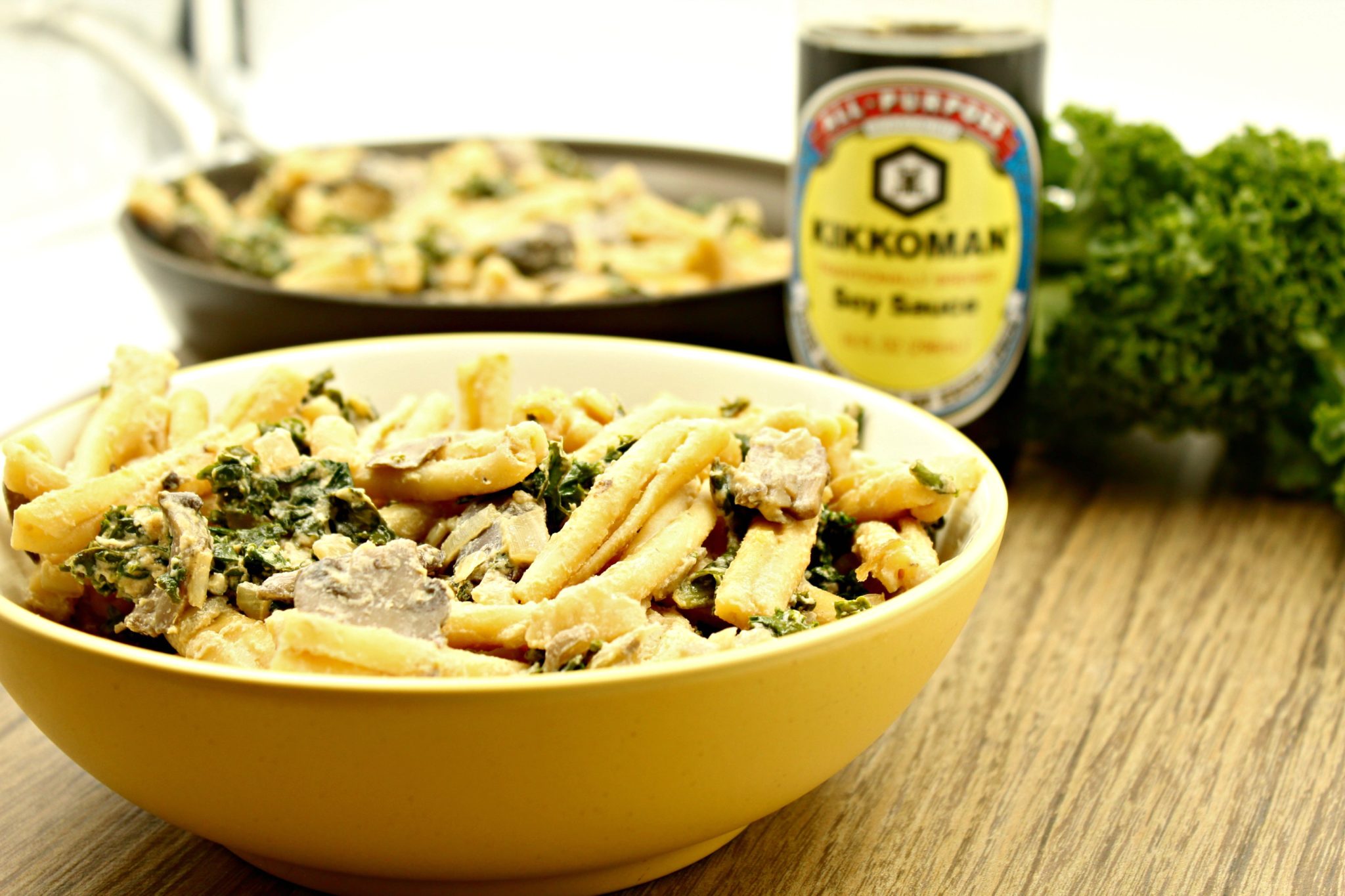 How do you like to use soy sauce? Have you tried using it outside of the traditional Asian recipes?? Do you like tahini?
Click collage to Pin: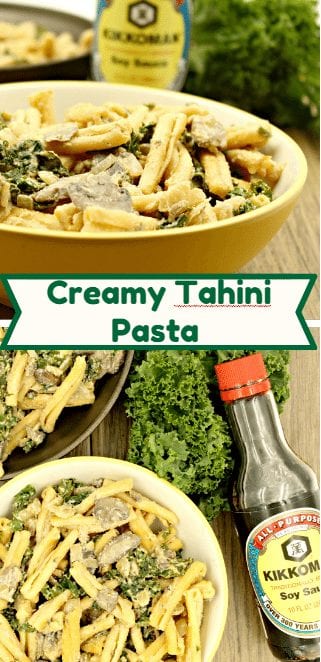 [ad_2]

Source link