Get Out of the Kitchen and Into the Garden With Farm to Fit's Delivery of Healthy Ready-to-Eat Meals
[ad_1]

If spring fever means you are itching to get out of your kitchen and into your garden but you are having difficulty finding time in your schedule, then check out Farm to Fit's healthy ready-to-eat meal delivery service. Those prepared meals, now available in Thurston County, give you flexibility on what and when you eat without the need to spend hours grocery shopping and cooking. Farm to Fit does it all and brings the meals to you.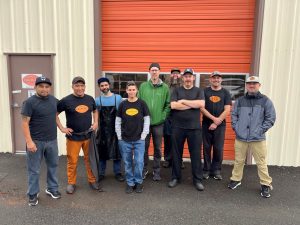 Diane Wilson is a Farm to Fit customer who orders those nutritious meals delivered to her Olympia home. She says the meals are fresh, restaurant quality, and full of variety and flavor. "I've enjoyed some very unique vegetarian dishes which have been surprisingly delicious," she says. "Many of the portions or meals are enough for two people."
Established in Portland in 2011, Farm to Fit began supplying meals in Thurston County in early 2022. Farm to Fit prepares meals and brings them to your doorstep. You simply heat them when you are ready to eat.
Farm to Fit's culinary team designs menus that change seasonally and weekly, using local vegetables and no preservatives or additives. Multiple meal plans are available, including reduced calorie meals, and those focusing on vegan selections, paleo diets, diabetes-friendly foods, low-carbohydrate choices, Whole30-approved foods and keto meals with low carbs and high proteins.
Farm to Fit uses locally sourced and seasonal ingredients. Now that it's spring, CEO and Co-Founder G. Scott Brown says they are cooking more with asparagus, berries, greens, radishes, leeks, rutabaga, mustards, kales and Bok choy. "Greens in general are coming," he says.
Brown also says that COVID-19 focused people's attention on eating at home, even if they are not making every meal from scratch themselves. "Before, you would go out to eat or eat at home, or have food delivered that you have to eat right away," he says. "We are somewhere in-between that. It's come full circle. I think once people found out about us and our ready-to-eat meals, they realize they have more choices, including on when to eat them."
He says that meal schedules are in flux as more people are working from home some days and in the office other days. "People change when they eat – what time of day," Brown says. "They might not have the same work hours." This means that it's important to have tasty and healthy food ready whenever it's time to eat. "People are trying to figure it all out," Brown adds.
Farm to Fit provides that needed flexibility with meal planning, offering healthy breakfasts, lunches and dinners. The company delivers fresh (not frozen) meals. Customers simply give them a quick re-heat in the oven or microwave. These are not meal kits where you must assemble and cook the ingredients.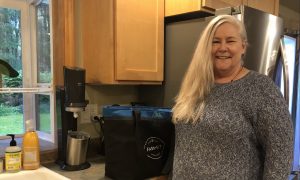 You can choose different meal options for different weeks, depending upon your needs. "We have found our sweet spot with customers," says Brown. "For some, we have turned into a supplemental food source. We have all kinds of people (using Farm to Fit). Some order the majority of their meals from us, but some see us as a healthy way to keep food on hand."
Wilson says that as a busy professional woman, the plant-based food options she chose for delivery saved her from grabbing fast snacks, instead providing her healthy, delicious and quick to prepare meals. She even lost some weight.
Here is how Farm to Fit works. Step one of online ordering is to choose a Farm to Fit meal plan. Step two is to enter in your delivery address and select your meals. Step three is to receive your meals.
Clients can order as few as three or as many as 21 meals per week through single orders or ongoing subscriptions. Clients need to submit orders six days prior to the delivery day. Thurston County deliveries are on Mondays and Thursdays.
Drivers deliver meals in insulated cooler bags with ice packs, placing them on the customer's doorstep. Meal containers are plastic-neutral. After giving their next order, clients simply put the empty bag back on their doorstep for pick-up with the next delivery.
And do you know someone who could use a break in preparing meals for a while? Maybe they are new parents, someone who is ill, or family or friends living through a house remodel. Or maybe you are looking for a creative Mother's Day or Father's Day gift. If so, then tap into Farm to Fit's "Care Packages" to send some easy meals.
More information on Farm to Fit's healthy meal deliveries, keto meal deliveries, vegan meal deliveries, Whole30 meal deliveries, including menus and ordering and delivery details, is on the Farm to Fit website.
Farm to Fit
5411 NE Portland Hwy, Portland
503.688.9248
[email protected]
Sponsored
[ad_2]

Source link