8 Easy Camping Lunch Ideas
Are you looking for easy camping lunch ideas? I've compiled some of my favorites to help you streamline your planning and get out there to make memories with your family. Read on for easy lunch ideas!
Since camping tends to be a time when everything is at a slower pace, there's no need to feed everyone three square meals a day. 
What has worked for us for a long time is making a larger brunch/breakfast of French toast, or pancakes or breakfast burritos, for example, around 10 am.
Then we may go hiking or biking or do some outdoor activity together and come back to the campsite around 2 pm, which is the perfect time for "lunch" otherwise known as "refueling snacks". 
But the snacks are balanced, light and refuel everyone a bit for the afternoon before the evening meal. So what are some easy camping lunch ideas that are healthy too? 
Easy Camping Lunch Ideas
Here are 8 combinations of easy camping lunch ideas to help you plan for the best camping trip ever:
Camping Charcuterie is a great light lunch. Set out the crackers, sliced meats and cheeses along with grapes or blueberries or apple slices and nuts. Add some refreshing beverages for a relaxing lunch.
Dips and Chips. Provide hummus and pita chips and cucumbers, along with guacamole/salsa with tortilla chips and sliced apples with peanut butter. Just add a refreshing beverage.
Fruit and Vegetable Platter. Fill a platter with fresh berries, watermelon, pineapple along with carrot sticks, celery sticks, cucumber spears, pepper slices and cherry tomatoes. You can provide ranch, peanut butter, fruit dip or anything you like to dip your fruits and vegetables in along with a refreshing beverage.
Egg Salad Sandwiches and Fruit. Pre-make the egg salad before arriving at the campground, and bring whole wheat bread and lettuce to make quick and easy sandwiches. Serve with fresh fruit and a refreshing beverage.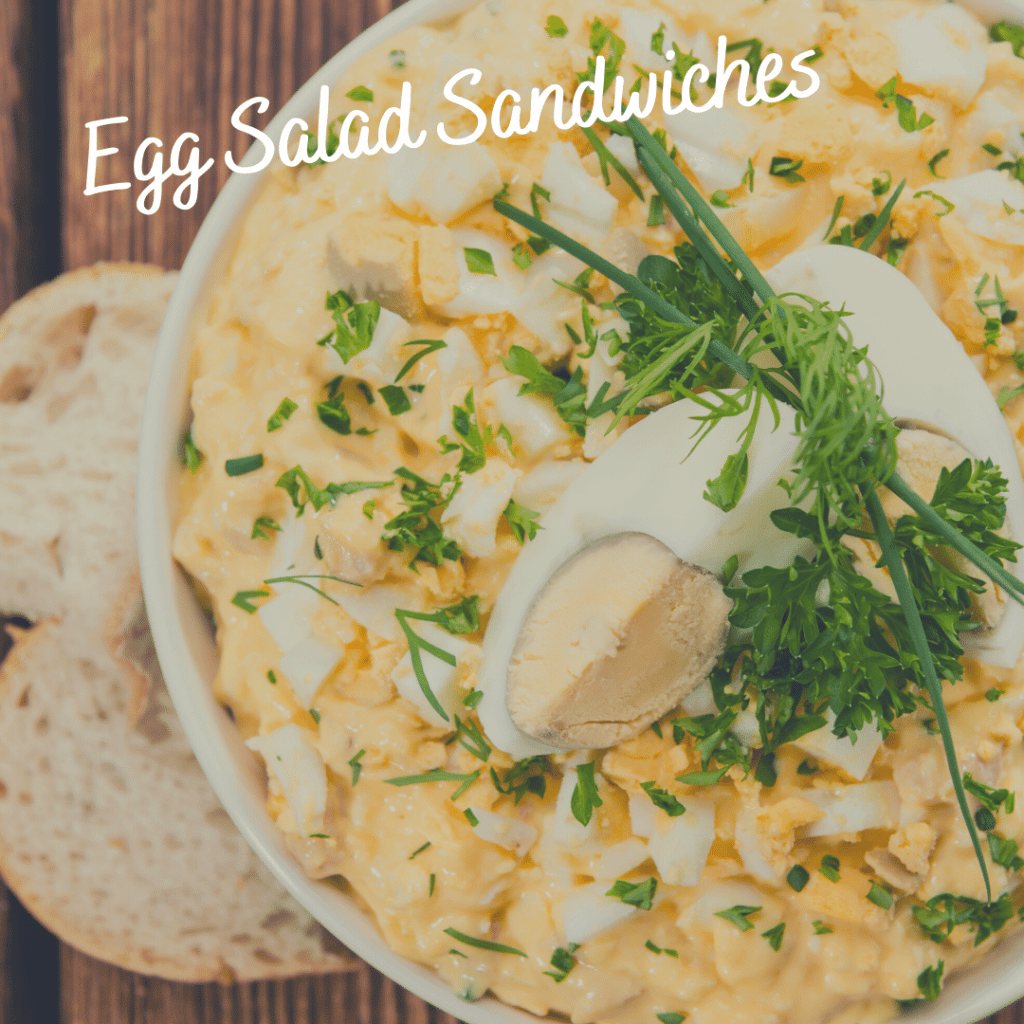 Tuna Salad Wrap with Fruit. Pre-make tuna salad and serve inside a wrap with lettuce alongside celery, peanut butter and raisins is a great light lunch along with a refreshing beverage.
Chicken Salad on Crackers with Fruit. Pre-make chicken salad or purchase it before arriving to the campground. Serve with crackers, grapes and apples. 
Salad in a Jar. This is a fun option to make before you arrive at the campground. You can use Mason Jars, or even better, plastic "Salad Jars" like these. (I love the Make & Take Jars from Pampered Chef – they even come with a free fork and spoon that actually reach to the bottom of the jar! Plus a secure spot for dressing that won't make salads soggy!) Build your salad upside down, meaning the wettest/heaviest ingredients are at the bottom, and lighter ingredients like lettuce are at the top. Then when it's time to eat, just flip it over onto a plate and serve. You can find a chart of salad ideas here.
Peanut Butter and Jelly Sandwich Pockets with Fruit. These are super fun and freezable too. Just get a loaf of bread and make your own "uncrustable" style sandwiches using this tool, called the Cut & Seal. Then wrap them individually and freeze. You can pull them out of the camper freezer (if you have one) and serve, or just store in the cooler until ready to serve with a piece of fruit like a banana.
If you are a weekend warrior camper, then you will likely only need one of these lunches. But if you are going for a four day camping excursion, pick two of these. Typically the day you arrive and the day you depart, you don't need to have a "lunch".
If you would like to see a three-day camping menu, grab that here. And your grocery list to plan for it here. 
If you loved these ideas, then head over to my "Freebies" section for your own downloadable camping checklist to make your next camping trip stress-free!